General Requirements:
Proposals for plenary sessions must be submitted via the submission system. Full details on submitting presentation proposals are available in the call for presentations.
Proposals for talks will only be considered by the RIPE Programme Committee (PC) if they contain at least draft presentation slides (slides may be updated later on). For panels, proposals must contain a clear description, as well as the names of invited panelists, presenters and moderators.
Presenters should indicate how much time they will require. See more information on time slot allocations per presentation format.
Other Important Information:
The RIPE Programme Committee (PC) accepts proposals for different presentation formats including plenary session presentations, BoFs (Birds of a Feather sessions) and lightning talks. See full descriptions of these formats.
Product marketing talks are strongly discouraged as RIPE Meeting attendees are quite sensitive to keeping presentations non-commercial.
Tips for Preparing Presentations:
Here are some suggested guidelines on presentation preparation to ensure you have easy-to-read and easy-to-understand information on your slides:
Limit the number of slides to avoid information overload
Use less text and a larger font size
Use a standard, easy-to-read font, such as Helvetica or Arial
If you are using a Keynote presentation, please ensure that the "Include preview in document" checkbox is selected when saving your presentation.
If you are worried about how your presentation will display, the safest option is to upload your slides in .pdf format.
RIPE Presentation Templates: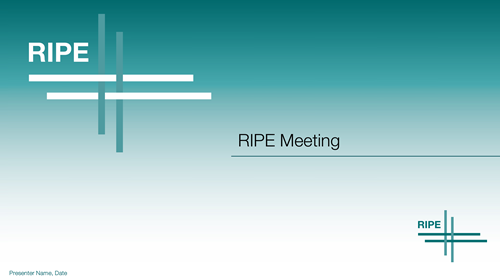 If you would like to give your talk using a RIPE PowerPoint or Keynote template, please use the links below. The templates are pre-formatted to ensure that presentations are easy-to-read and have a professional appearance. Please do not change colours, font size, or font type.
Copyright note:
Please make sure you have all rights (including copyright) to reproduce the material (e.g. images) contained in the slides.
Download: RIPE Presentation Template – PowerPoint (3 MB)
Download: RIPE Presentation Template – Keynote (323 KB)