Tuesday, 27 October
Our second fully virtual RIPE Meeting welcomed 1,166 registered attendees from 80 countries.
The day began with the Newcomers' Introduction session led by RIPE Chair Mirjam Kühne and Vice Chair Niall O'Reilly. As always, this is a crash course on everything RIPE and RIPE NCC (and hopefully provides a better picture of the difference between the two!) We tested newcomers with a Kahoot! quiz and handed out the first of the coveted official RIPE 81 t-shirts as prizes!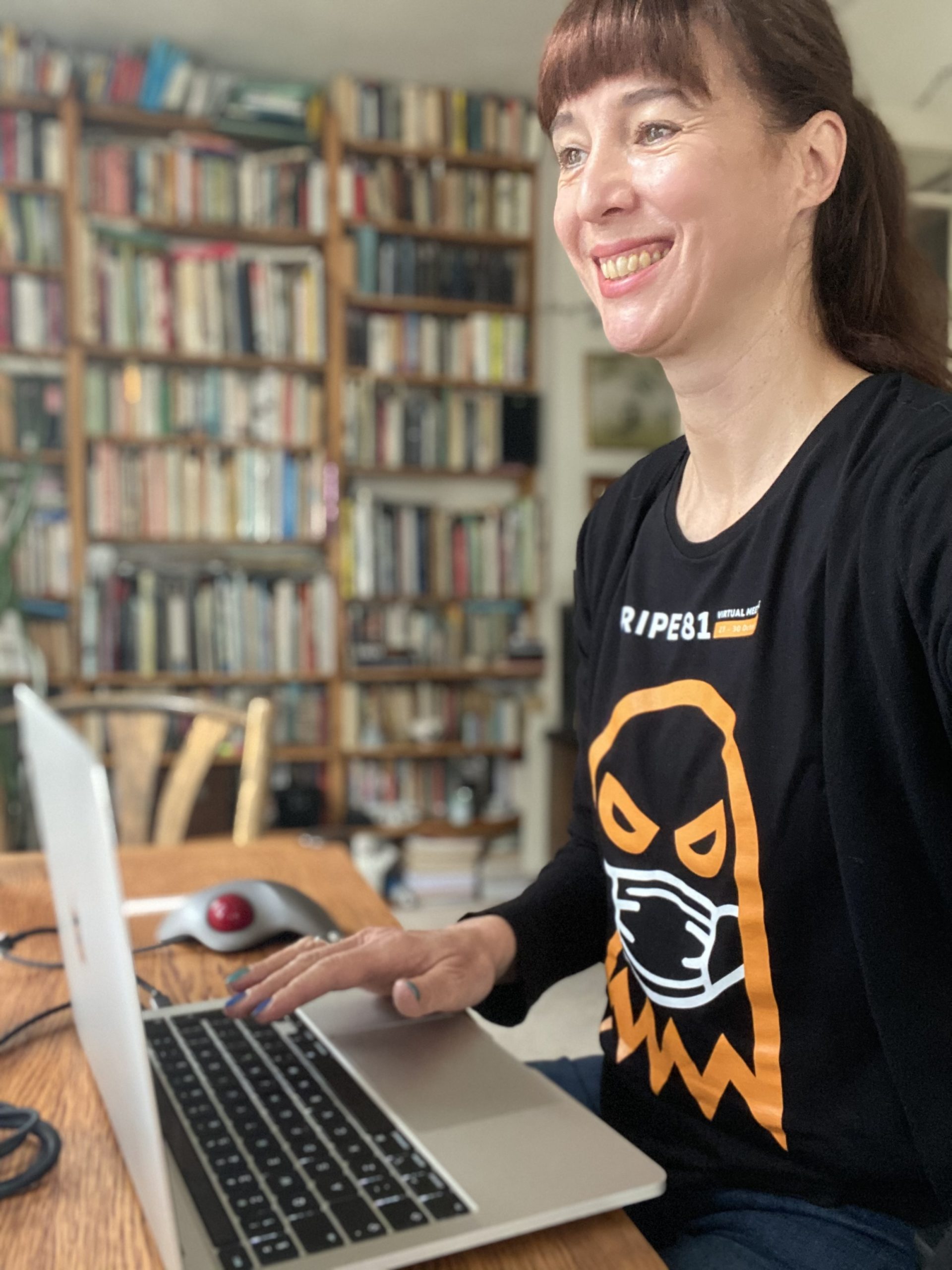 Mirjam gearing up to chair RIPE 81
Mirjam officially opened RIPE 81 in the Opening Plenary, with a few words from Hans Petter Holen, RIPE NCC Managing Director and Franziska Lichtblau, RIPE Programme Committee Chair. Susan Forney, Hurricane Electric presented interesting statistics about RPKI adoption in IPv6. Oliver Gasser spoke about the impact of COVID-19 on Internet traffic. We had some teething problems with our new conference platform, and Oliver gave it his best shot despite technical issues. Thanks Oliver, our apologies for your interrupted presentation and a big (virtual!) round of applause for your presentation!
The rest of day one flew by once we got Meetecho back up and running. Geoff Huston shared his findings from his latest RPKI measurement experiment, and the new RIPE Labs editor, Alun Davies, gave a short lightning talk about what you can expect to see from Labs in the coming months. Nico Schottelius provided insights into NAT64 with P4, and Robert Kisteleki followed with a lightning talk on the 10 years of RIPE Atlas. Fun fact: RIPE Atlas was originally called DAR, which may or may not stand for 'Daniel and Robert'. You'll have to ask Robert to find out!
Wondering when we can move to IPv6-only networks? Watch Jen Linkova's presentation and ask her about how not to break a treadmill. Massimo Candela reported on a current IETF draft proposal to make it easy to find authoritative geolocation information in a standardised format. We've heard of centralisation the Internet, but what does it mean when DNS traffic is centralised? Giovane Moura presented on this question, followed by a lightning talk by Boris Mimeur on MANRS research group initiatives.
If you missed any sessions – the recordings and presentations are available on the presentation archives!
While this sounds like a day full of serious business – there were lighter moments! The king of Kahoot! Gerardo Viviers showed off his sound effect skills while asking some tough questions about IPv6 security. We also invited attendees to stretch with Lenka – RIPE NCC's management assistant and stretching coach to get re-energised for the afternoon. And finally we wrapped up the evening with informal 'Meet the RIPE Chair and Vice Chair' and 'Meet the RIPE NCC Executive Board' sessions.
Is Day One over then? Not entirely – for anyone who feels like catching up with old acquaintances or getting to know new ones, the lobby bar, pub, poolside, and fireside on SpatialChat are just a click away!
And here are some of our favourite tweets from today:

And we liked Eileen's tweet so much that we're sending her a t-shirt for having the #RIPE81 Tweet of the Day!

Yes Erik, our sympathies…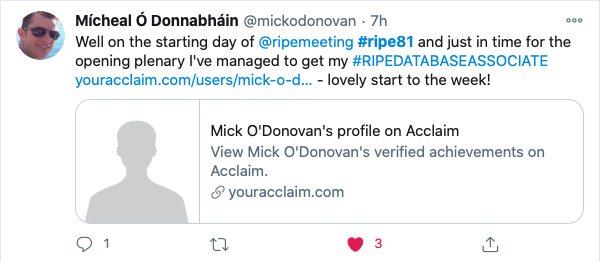 And well-timed Micheal!
Wednesday, 28 October
Wednesday was all about the RIPE Working Group (WG) sessions – here's a summary:
Address Policy WG
DNS WG
Connect WG
Cooperation WG
MAT WG
RIPE NCC Services WG
The day ended with the General Meeting for RIPE NCC members.
Tomorrow, we will start Day Three with the Anti-Abuse WG session at 10:00 (UTC+1) – see you there!
Here are some of our favourite tweets from today: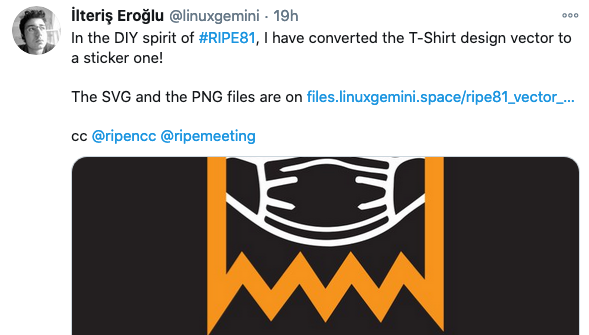 Great initiative İlteriş. You've just won tweet of the day!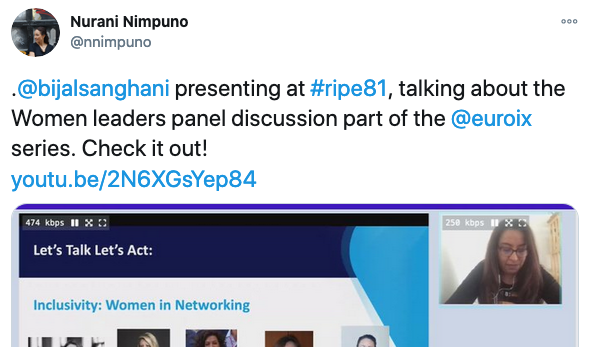 Important topic, thanks for sharing Nurani.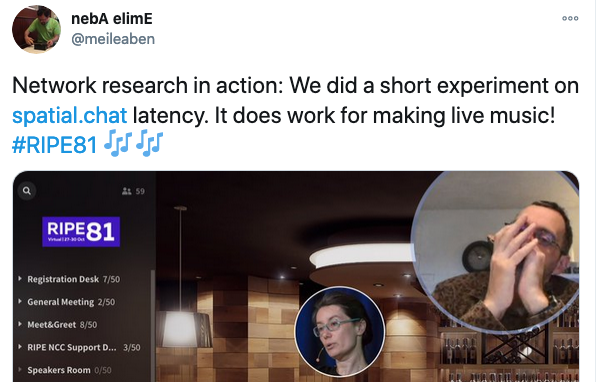 Another good reason to hang out on SpatialChat!
Thursday, 29 October
Thursday was another busy day with 1,212 attendees registered, 564 unique Meetecho viewers, and 540 unique viewers on the live stream. The day was full of RIPE Working Group (WG) sessions, demos, discussions and updates on services and technical tools. Check out the summary of the day:
Anti-Abuse WG
Routing WG
RIPEstat
IPv6 WG
IoT WG
Open Source WG
Database WG
The day will end with a night of horrors including virtual bingo, a "monster" playlist, RIPEtinis, spooky Halloween costumes, and prizes! Join the RIPE Dinner on SpatialChat.
To keep up with what's happening at RIPE 81, follow @RIPEMeeting on Twitter and use the #RIPE81 hashtag.
These are some of our favourite tweets of the day: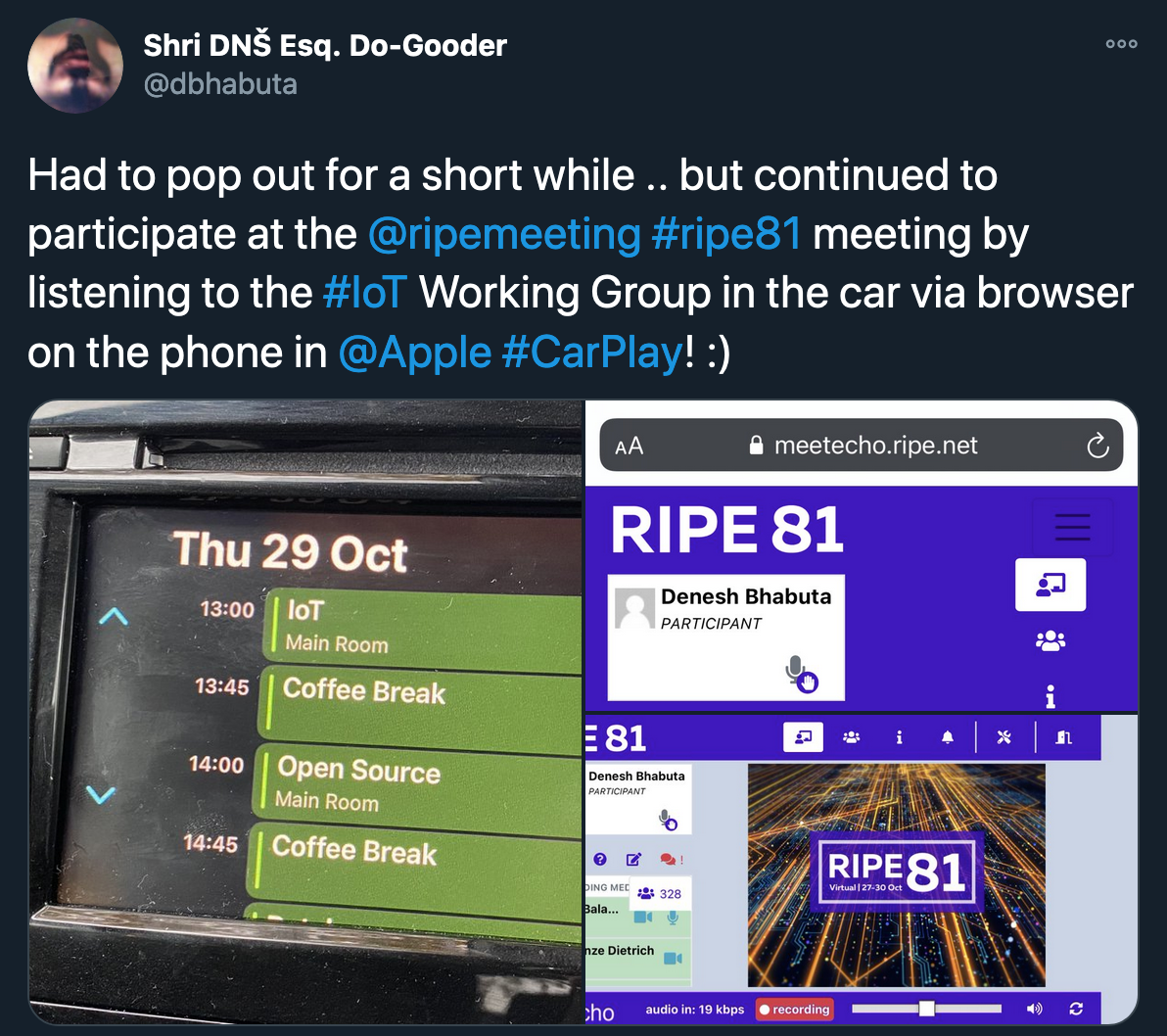 Kudos on the great idea!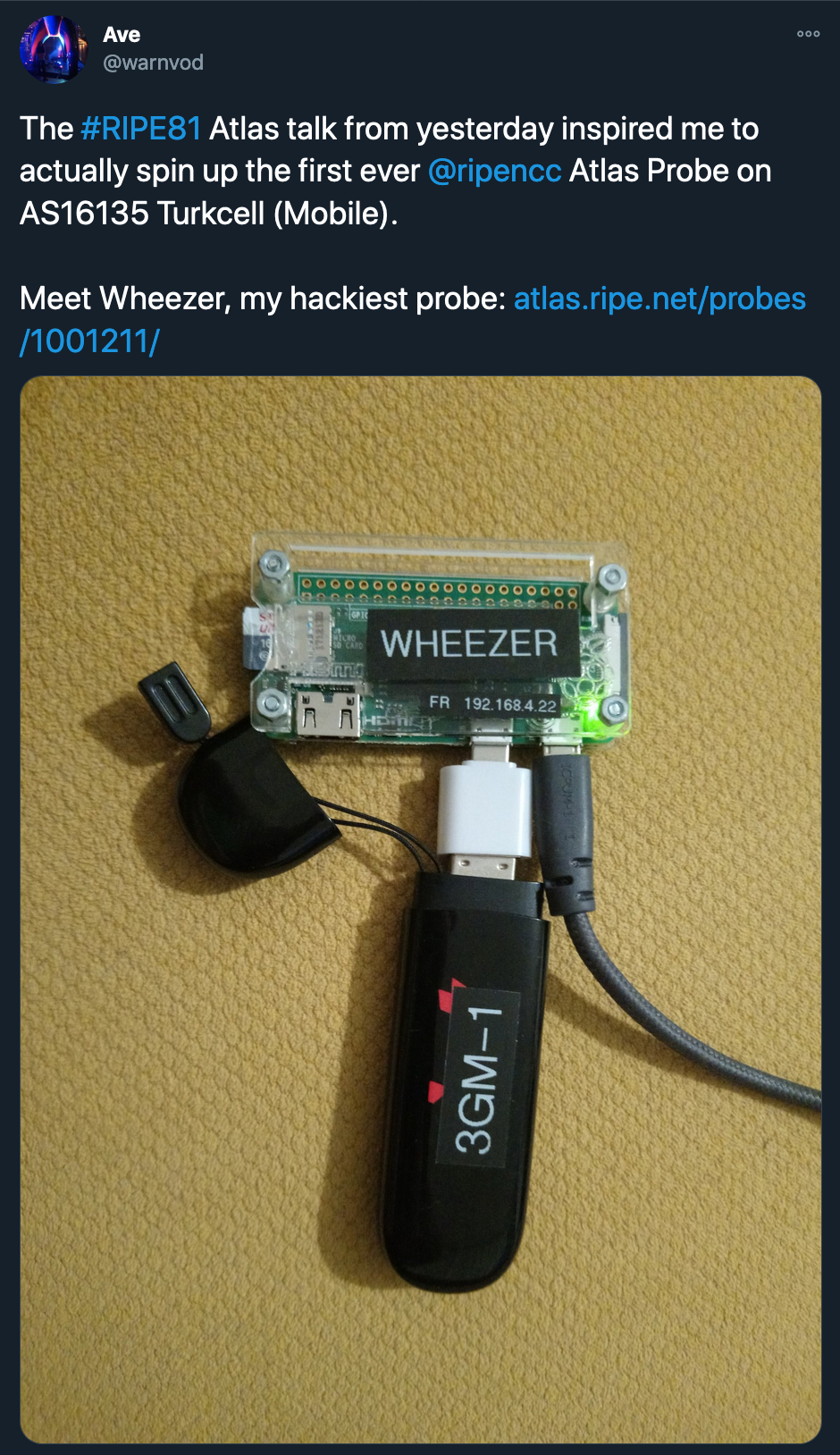 Great craftsmanship here, Ave! We love the creativity today.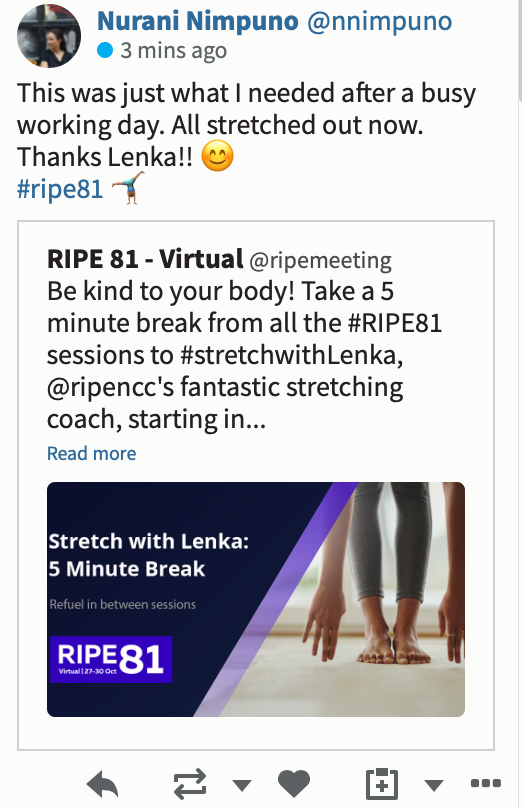 Glad to see our RIPE 81 attendees are also loving Lenka's stretching breaks.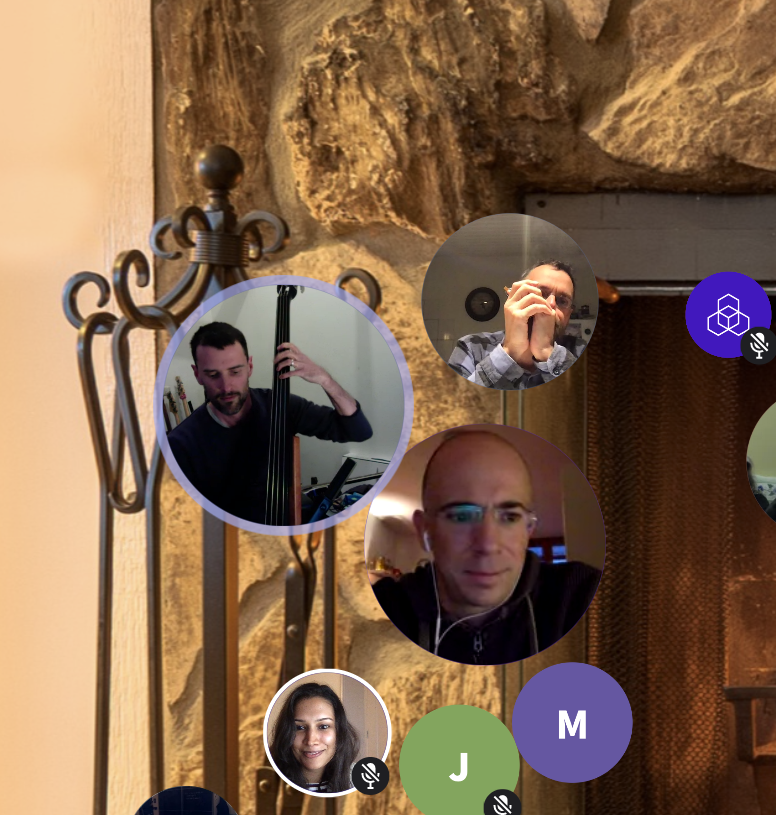 Second day of live music on SpatialChat! Today, a virtual jam session took place by the fireplace.
Friday, 30 October
Friday was all about the RIPE Community – here's a summary:
RIPE Community Plenary
Closing Plenary
Yesterday's Virtual RIPE Dinner
Back to yesterday, we ended the day with a night of horrors including virtual bingo, a "monster" playlist, RIPEtinis, spooky Halloween costumes, and prizes!
It all took place in this spooky setting: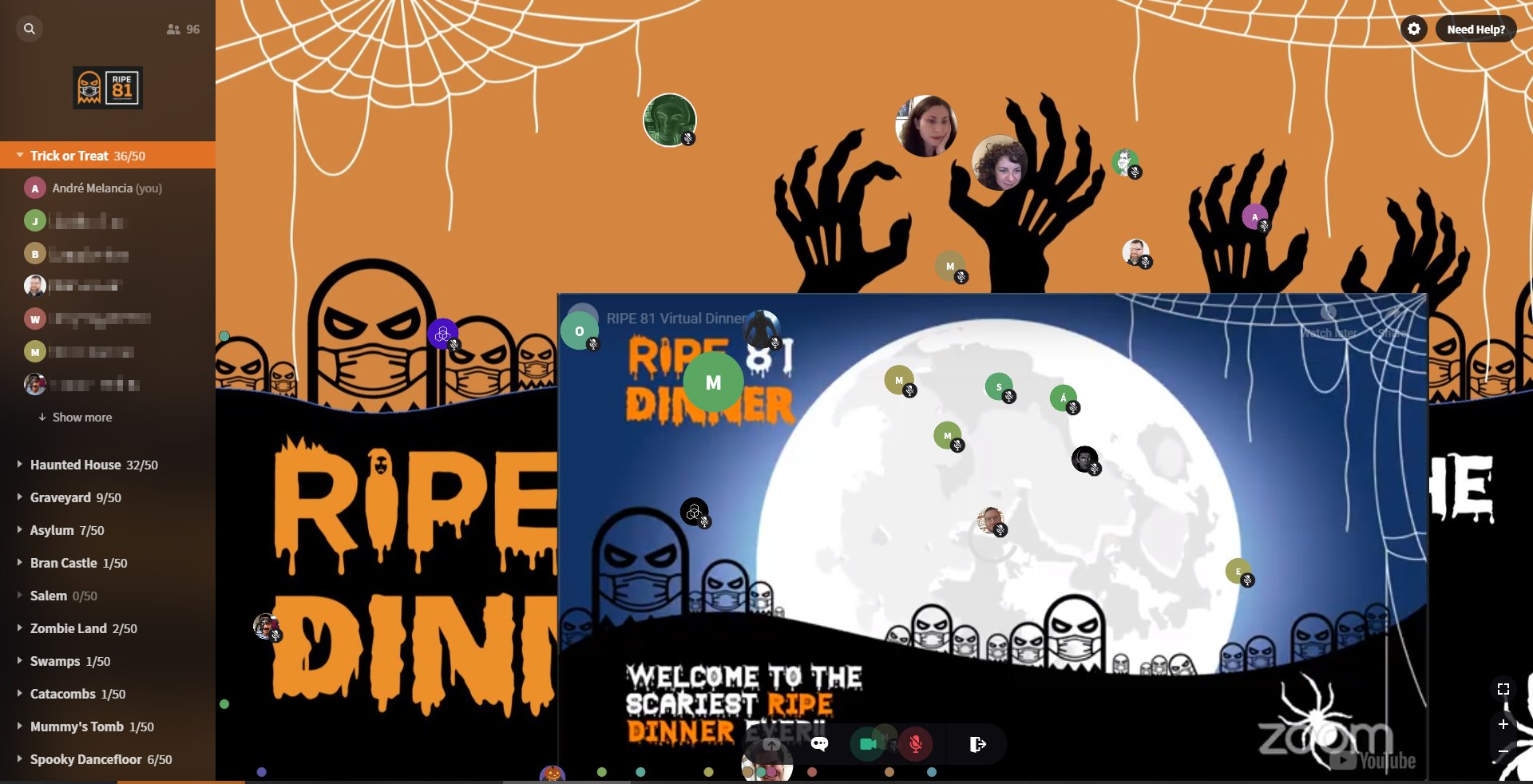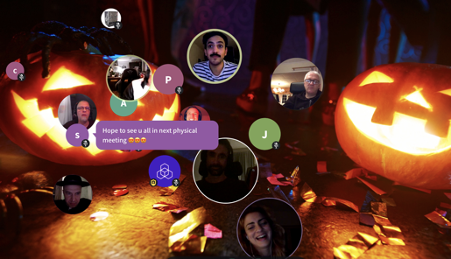 Of course, the community took their excitement to Twitter! Here are some of our spookiest, uhh.. favourite tweets:
All black, everything.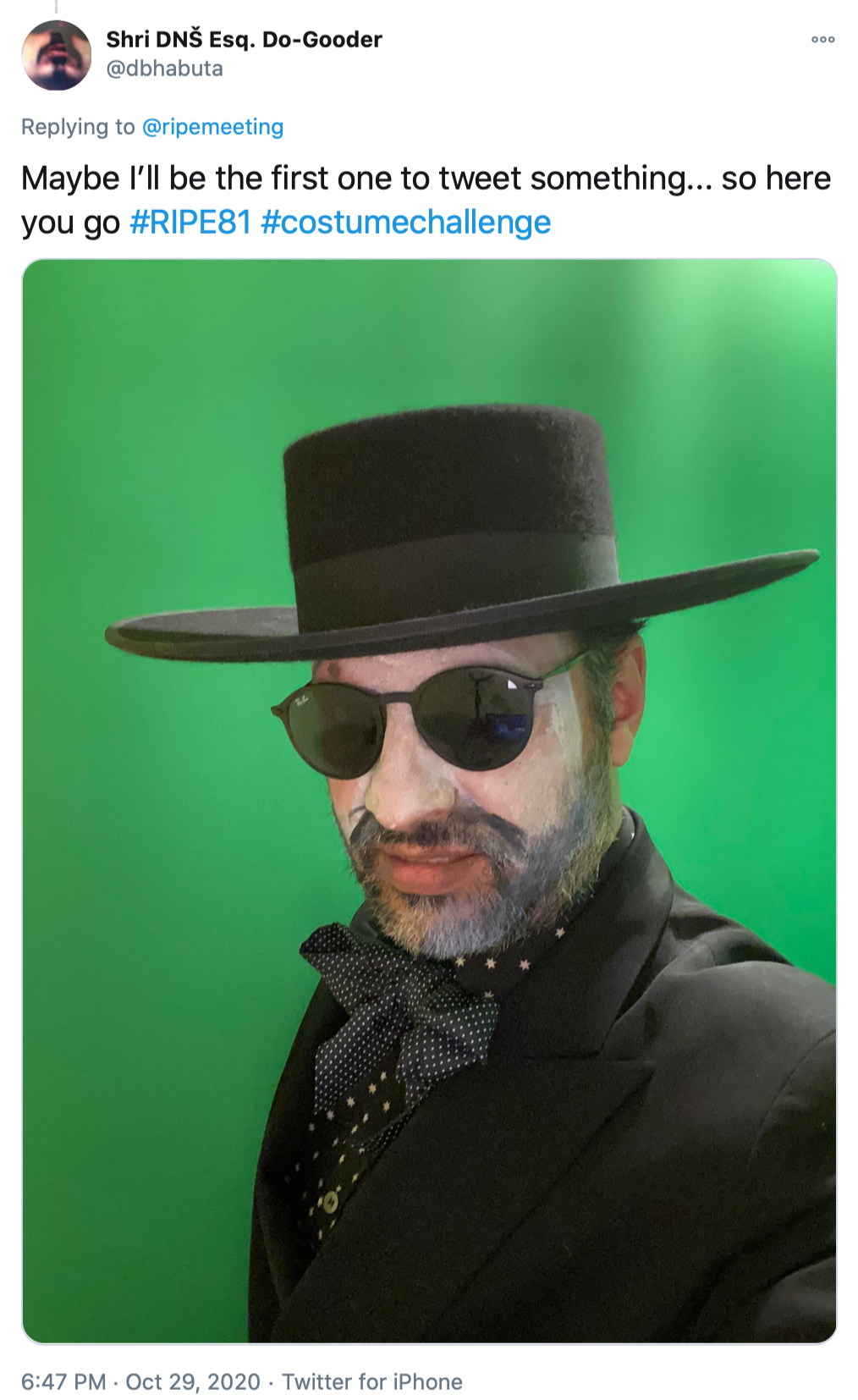 Gwen showing off her hairy werewolf costume!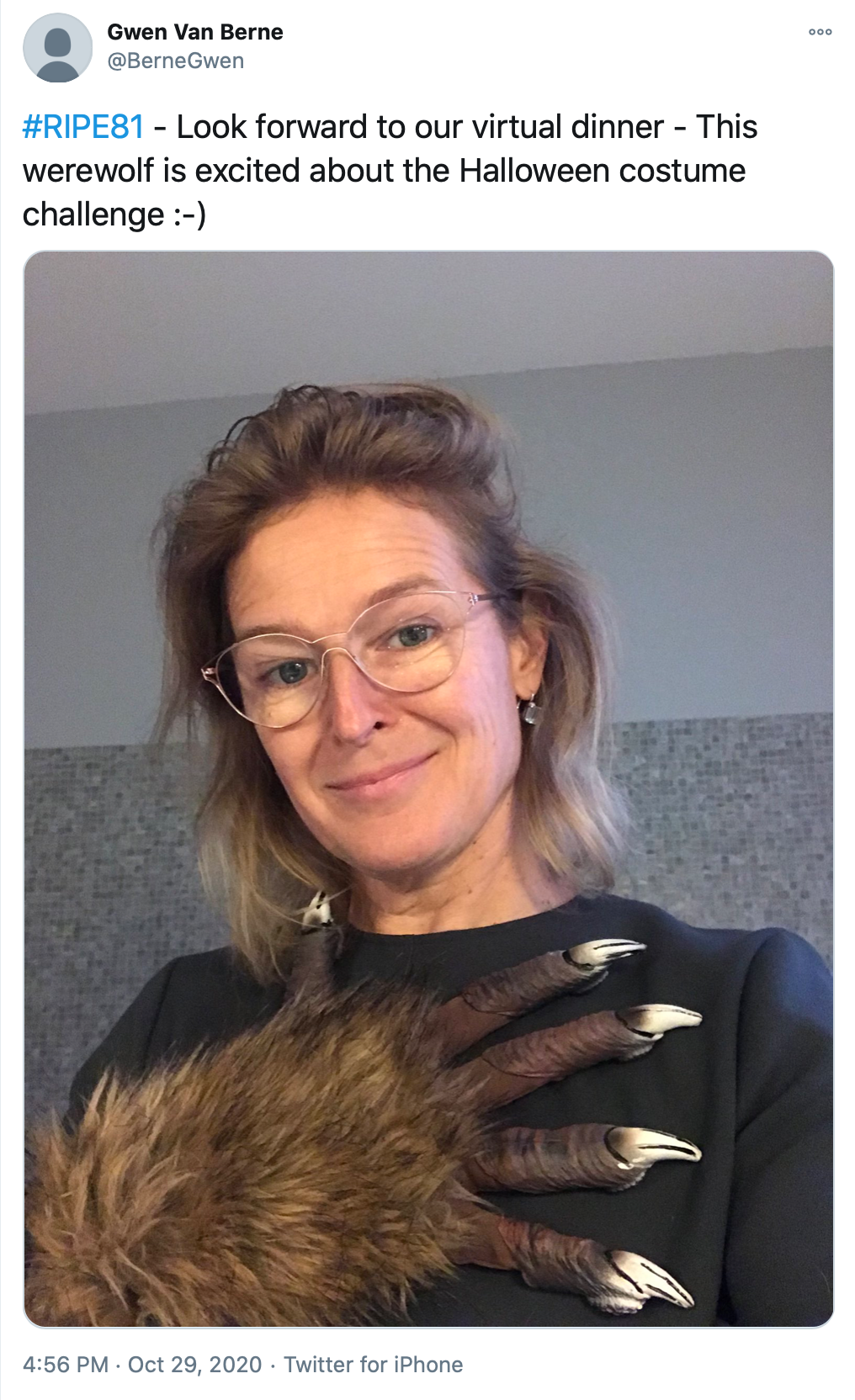 Some people were "almost" ready..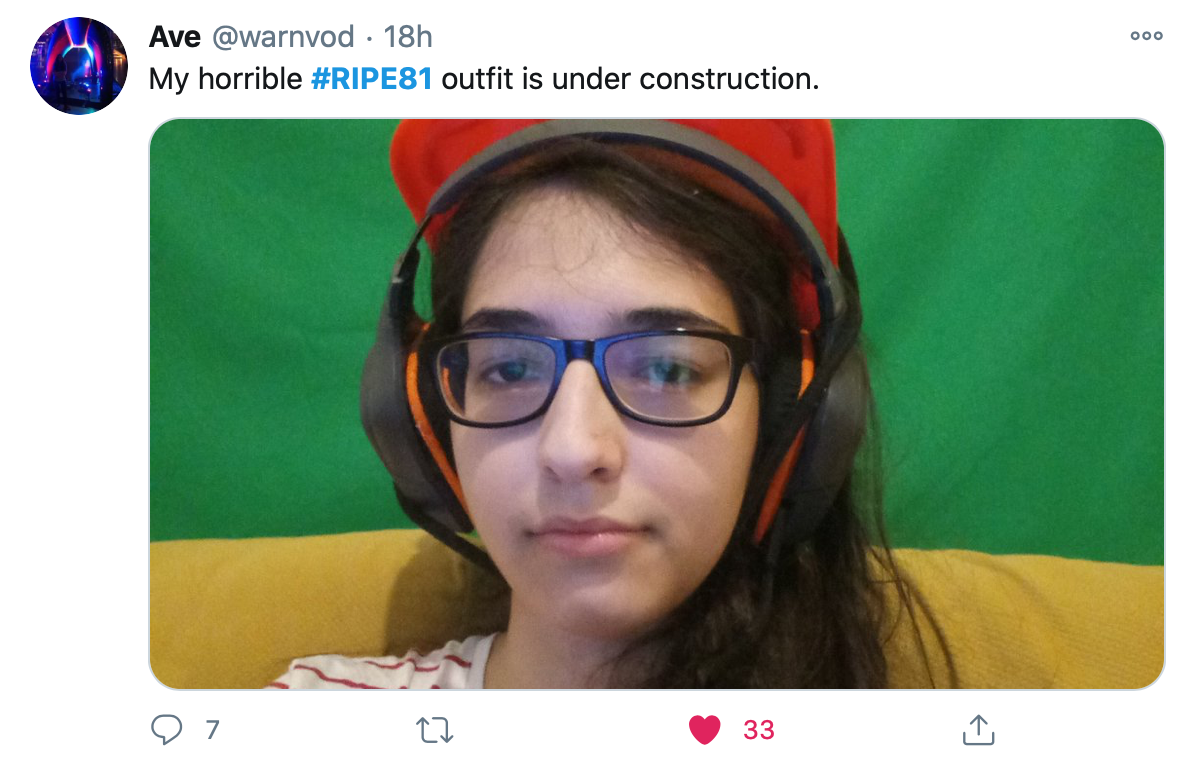 ..and some misread the dresscode, haha! ;-)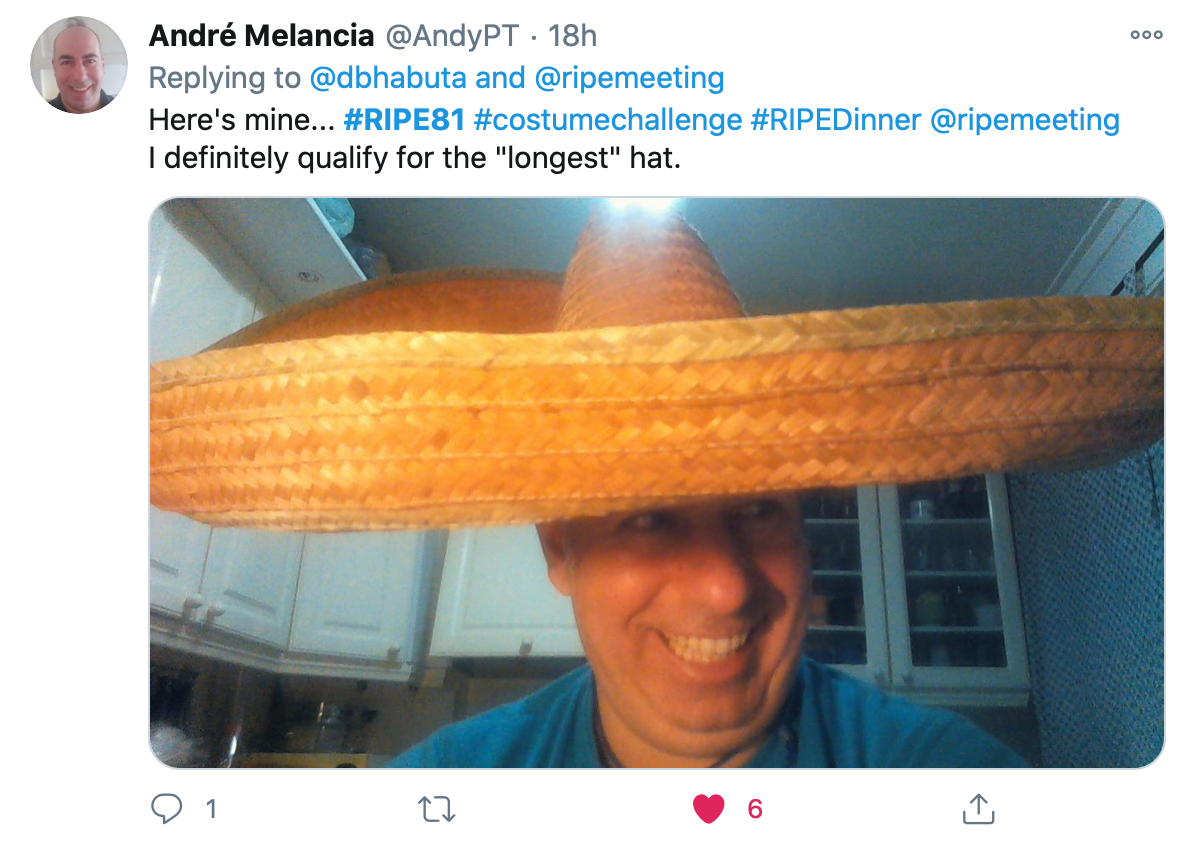 The playlist didn't go unnoticed.

André was clearly having a good time in SpatialChat and enjoying the virtual RIPE Dinner.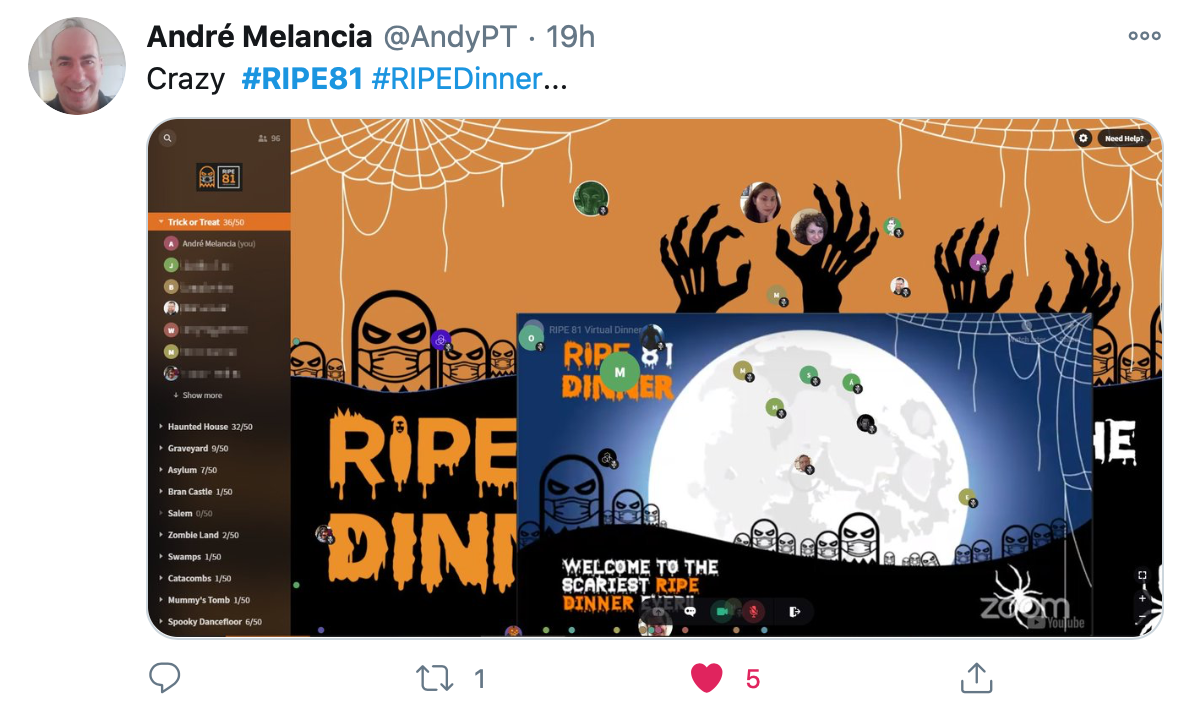 Talking about SpatialChat.. Ruben gave us props for using Meetecho and SpatialChat during our event:

Thank you for participating to RIPE 81!
How was your second virtual RIPE Meeting? Share your feedback with us!